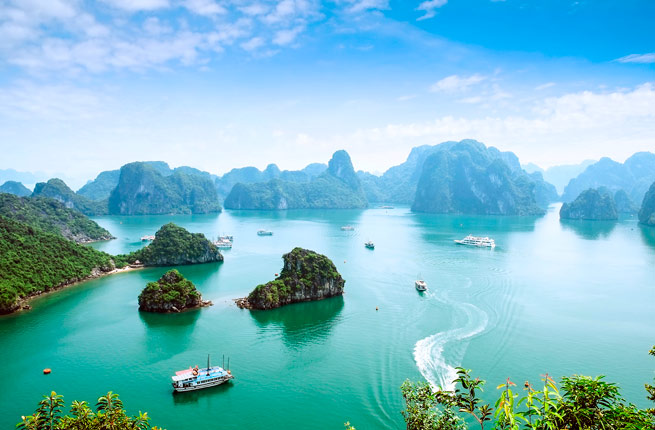 Vietnam's Top 12 Experiences
Vietnam offers terrific experiences that should be on every traveler's list. Here are Fodor's top picks for a memorable trip

Halong Bay

Thousands of limestone karsts jut skyward from emerald waters in this UNESCO World Heritage-listed seascape. The best way to see it is to hop by boat between islands, including scenic Cat Ba, home to a national park.

The Imperial City, Hue

The jewel of Hue's Citadel, this sprawling complex of majestic palaces and evocative temples brings the magnificence of Vietnam's royal dynasties to life.
Markets

From Hanoi's bustling Old Quarter to floating outposts in the Mekong Delta, markets reveal colorful slices of local life. Plunge right in and haggle like you mean it.
Ho Chi Minh City

Rapidly modernizing, HCMC is a jolt of urban energy unlike anywhere else in the country. The frenetic pace (that traffic!) is tempered by peaceful pagodas, parks, and cafés.
Street Food

Devour a delicious bowl of pho on a bustling corner or follow the fragrant smoke emanating from a sidewalk brazier, where marinated pork sizzles
Vietnam War Legacy

Museums pay tribute, but for a different perspective on the war, look underground—the vast Cu Chi tunnel network is a monu­ment to Vietnamese tenacity.
Phong Nha Ke Bang National Park

Untamed jungle, vast imagination-defying limestone caves, and underground rivers make this spectacular region irresistible to
adventurers.
Hoi An

French colonial architecture, historic traders' houses, and atmospheric temples are among the charms of Hoi An that are easily discovered on a riverside stroll.