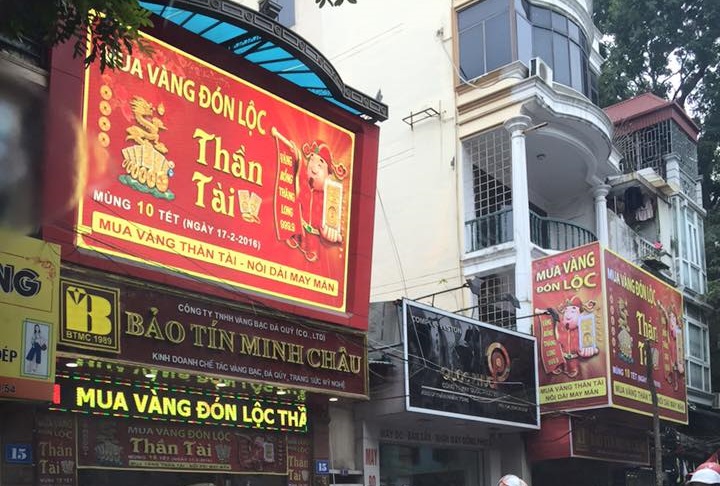 On God of Wealth's day, Vietnamese jostle to buy gold
A day in the lunar calendar traditionally known as the day of the 'God of Wealth' in Vietnam is when people normally rush to buy gold in search of good fortune. However this year many have observed the tradition even before the day itself.
As per Vietnamese tradition and custom, the tenth day of the Lunar New Year, which is today (February 17), is the day when the God of Wealth returns to heaven, creating the belief that buying gold then will bring good luck and prosperity throughout the year.
Despite this, gold shops in Vietnam's larger cities were packed with buyers as early as Tuesday, with people concerned that prices would soar if they bought on the right day.
Lan, who was waiting for her turn at a gold shop near Ba Chieu Market in Binh Thanh District, added that purchasing the precious metal on the day of the God of Wealth brings good luck for people doing business like her.

While gold bullion and jewelry are traditionally the bestselling products, local gold firms have sent many new products, including gold coins and animal-shaped gold bars, to the market this year.

As it is currently the Year of the Monkey in the lunar calendar, the monkey is widely featured on a variety of gold products.
In the meantime, others think that the purchase must be done at the right time.
"The God of Wealth will only bring good fortune to you if you buy gold on the tenth day of the lunar calendar," said Do Thi Yen, a Phu Nhuan District resident.

"Even though I have to hustle in the crowd, I am willing to do so in exchange for luck the entire year."

"Customers in other provinces have placed orders as early as the beginning of this week, so we are confident that sales this year will be enormous," a DOJI representative told
On Tuesday, gold fell to as low as US$1,190 an ounce on the global market, but bounced back to $1,210 an ounce, or VND32.69 million a tael (37.5 grams) at the close of trading.

In Vietnam, the precious metal closed at VND33.75 million a tael, up from VND33.4 million at the opening.

"The price increases can be attributed to the rising demand for the day of the God of Wealth," Nguyen Thanh Long, chairman of the Vietnam Gold Trader Association, told Tuoi Tre (Youth) newspaper on Wednesday.